DFE Requirements
CHANGES TO THE LAW
The new academic year 2012-2013 saw the introduction of an important change to The School Information (England) (Amendment) Regulations 2012. The amendment set out clearly the specified information to be published on a school's website, or at least online. This was an important change to regulations and came into force on 1st September 2012.
The changes
The first change was that from September 2012 schools will no longer have to publish an annual prospectus although we will continue to do so as it forms part of the material for prospective parents, provides an overview of the school and in many cases is exactly what some parents want to see.
Replacing the requirement for a prospectus is a specific list of what must be published:
the school's Pupil Premium allocation;
use and impact on attainment;
curriculum by year and by subject;
admission arrangements;
policies on behaviour, charging, and SEN and disability;
links to Ofsted reports;
details of, and links to, performance data
Saltersgate Junior School Policy for Pupil Premium
School Vision
The targeted and strategic use of pupil premium will support us in achieving our vision.

Principles
We ensure that teaching and learning opportunities meet the needs of all of the pupils
We ensure that appropriate provision is made for pupils who belong to vulnerable groups, this includes ensuring that the needs of socially disadvantaged pupils are adequately assessed and addressed
In making provision for socially disadvantaged pupils, we recognise that not all pupils who receive free school meals will be disadvantaged
We also recognise that not all pupils who are socially disadvantaged are registered or qualify for free school meals. We reserve the right to allocate the Pupil Premium funding to support any pupil or groups of pupils the school has legitimately identified as being disadvantaged
Pupil premium funding will be allocated following a needs analysis which will identify priority classes, groups or individuals.
Provision
The range of provision the Governors may consider making for this group could include:

Providing small group work with an experienced teacher focused on overcoming gaps in learning
1-1 support
additional teaching and learning opportunities provided through trained TAs or external agencies
additional resources, visits and visitor

All our work through the pupil premium will be aimed at accelerating progress moving children to at least age related expectations. Initially this will be in reading, writing and mathematics.
Reporting
It will be the responsibility of the Headteacher, or a delegated member of staff, to produce regular reports for the Governors on:

the progress made towards narrowing the gap, by year group, for socially disadvantaged pupils
an outline of the provision that was made since the last meeting
an evaluation of the cost effectiveness, in terms of the progress made by the pupils receiving a particular provision, when compared with other forms of support

The Governors of the school will ensure that there is an annual statement to parents on how the Pupil Premium funding has been used to address the issue of 'narrowing the gap', for socially disadvantaged pupils. This task will be carried out within the requirements published by the Department for Education.
~~~~~~~~~~~~
Ethos & Values
Saltersgate Junior School is an inclusive one in which the learning and teaching, achievements, attitudes and well-being of all members of this learning community are of vital importance. We continually seek to remove barriers to learning, value diversity and show respect for all individuals.
Through working in partnership with parents and responding to the needs of the community, we aim to maximize the potential for all pupils to lead safe, happy, healthy and successful lives.
The Vision for Saltersgate Junior School based on:
Effective learning for all pupils, forming the foundations for life long learning skills.
High, consistent and achievable expectations for all.
The effective delivery of a broad and balanced curriculum with a strong focus on excellence and enjoyment.
Individuals who constantly self-review and assess their own performance.
A community of people constantly striving for excellence.
Children and staff who enjoy school, are fully involved in its processes, and who are highly motivated and develop independence.
Strong community cohesion linked to positive partnerships with parents and the local community.
Saltersgate Junior School is committed to lifelong learning where every individual is valued, nurtured and respected. The school is an exciting, learning community with the emphasis on high quality teaching creating effective learners. The staff work hard to create a positive and caring environment where diversity, respect and tolerance are valued. We believe that all pupils are individuals with their own special qualities, skills and interests, which need to be encouraged. We put great emphasis on the development of confidence, self-esteem, independence, kindness and courtesy. Saltersgate Junior School is a secure and happy place. Pupils in partnership with parents and carers are supported and helped to develop academically, socially, physically and emotionally.
Pupil Premium
Letter to Parents regarding Pupil Premium
Pupil Premium - what you need to know
Purpose
The Government believes that the Pupil Premium, which is additional to main school funding, is the best way to address the current underlying inequalities between children eligible for free school meals (FSM) and their wealthier peers by ensuring that funding to tackle disadvantage reaches the pupils who need it most.
In most cases the Pupil Premium is allocated to schools and is clearly identifiable. It is for schools to decide how the Pupil Premium, allocated to schools per FSM pupil, is spent, since they are best placed to assess what additional provision should be made for the individual pupils within their responsibility. 
For pupils from low-income families in non-mainstream settings, it is for the local authority to decide how to allocate the Pupil Premium. For instance it could be allocated to the setting where they are being educated, or held by the local authority to spend specifically on additional educational support to raise the standard of attainment for these pupils. The authority must consult non-mainstream settings about how the Premium for these pupils should be used. 
Schools are free to spend the Pupil Premium as they see fit. However they will be held accountable for how they have used the additional funding to support pupils from low-income families. New measures will be included in the performance tables that will capture the achievement of those deprived pupils covered by the Pupil Premium. From September 2012, schools are required to publish online information about how they have used the Premium. This will ensure that parents and others are made fully aware of the attainment of pupils covered by the Premium.
Schools will also be provided with information about strategies and interventions which can improve the progress and attainment of pupils from poorer backgrounds. 
Key facts
The Pupil Premium is allocated to children from low-income families who are currently known to be eligible for FSM in both mainstream and non-mainstream settings and children who have been looked after continuously for more than six months.
Total funding through the Premium increased from £625m in 2011-12 to £1.25bn in 2012-13.
The level of the premium in 2012-13 was £600 per pupil for pupils eligible for free school meals (FSM) and for pupils in care who have been continuously looked after for six months. It increased to £900 per pupil in 2013-14, £1300 per pupil in 2014/15, £1320 in 2015/16 and 2016/17.
The Pupil Premium was introduced in April 2011, and paid to local authorities by means of a specific grant based on January school census figures for pupils registered as eligible for FSM in reception to Year 11. For looked after children the Pupil Premium was calculated using the Children looked after data returns (SSDA903).
The Pupil Premium was also paid to academies via the Young Peoples' Learning Agency.
Local authorities are responsible for looked after children in care and will make payments to schools and academies where an eligible looked after child is on roll.
The Government has decided that eligibility for the Pupil Premium will be extended to pupils who have been eligible for free school meals (FSM) at any point in the last 6 years. Earlier this year we consulted on options for extending the coverage of the Pupil Premium. As a group, children who have been eligible for FSM at any point in time have consistently lower educational attainment than those who have never been eligible for FSM.
Up to £50m of the £1.25bn will be used to support a Summer School programme to help the most disadvantaged pupils make the transition from primary to secondary school. This approach received the highest support in the recent consultation with 44% of those responding backing its introduction.
Service Premium
A premium has also been introduced for children whose parents are currently serving in the armed forces; this is currently £300. This service premium is designed to address the emotional and social well-being of these pupils.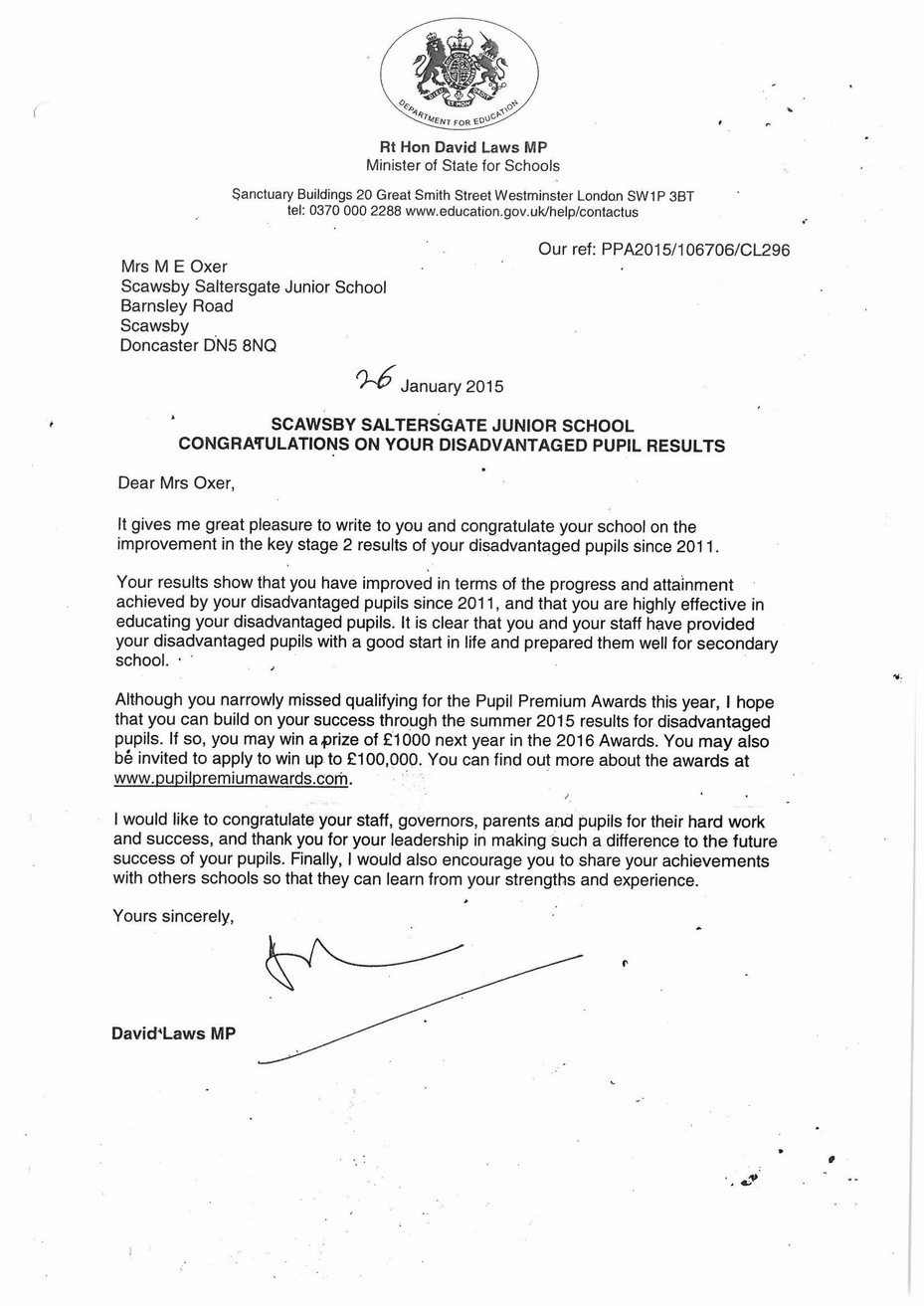 Below are links to the information we are required to publish
Pupil Premium Strategy 2017-18
Pupil Premium Strategy 2016-17
SEN Information Report September 2018
SEN Information Report/Local Offer 2017-2018
Curriculum by year and by subject
Performance Tables - The Department for Education
Saltersgate Junior School Fund Mission Statement
Please click here for our most recent Ofsted report.

The most recent inspection report is also available on the Ofsted website. Click on the above logo to go directly to the website.
Parent View
Below is the document with information from the Parent View Questionnaires that parents were asked to complete recently.
Parent View Questionnaire Data